Newsroom
Merchant Finance Boosts Fiji Rugby with $50,000 Donation for Cardio Challenge and Women's Rugby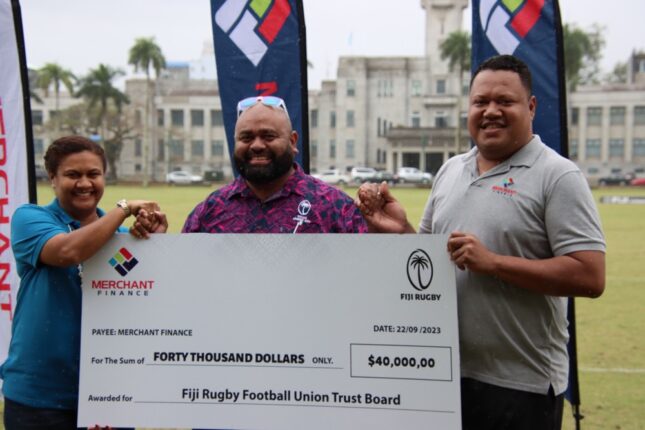 The Fiji Rugby Football Union received a timely donation of $50,000 (FJD) today from Merchant Finance.
 Out of this generous contribution, $10,000 will be allocated to the FIJI Water Flying Fijians' 30km Cardio Challenge, while $40,000 will be directed towards the growth and development of Women's Rugby in Fiji.
Leonore Naivaluwaqa, the Manager for Personal Lending at Merchant Finance, speaking on behalf of the Board and management expressed her delight in being a part of this meaningful cause.
She emphasized Merchant Finance's commitment to contributing to societal well-being through corporate social responsibility.
Fiji Rugby Football Union Interim Administrator Simione Valenitabua gratefully acknowledged this invaluable donation.
He said that the funds have arrived at a crucial juncture and will significantly benefit their initiatives.
Valenitabua conveyed heartfelt appreciation to Merchant Finance for their support and stressed the importance of this contribution for both the FIJI Water Flying Fijians in France and the broader Fiji Rugby community.
Valenitabua also extended gratitude to all previous donors who have contributed to the "Walk on Walk Strong" campaign and expressed hope that more corporate entities would join in supporting their cause.